Tickets To Sydney WorldPride 2023 Are On Sale Now!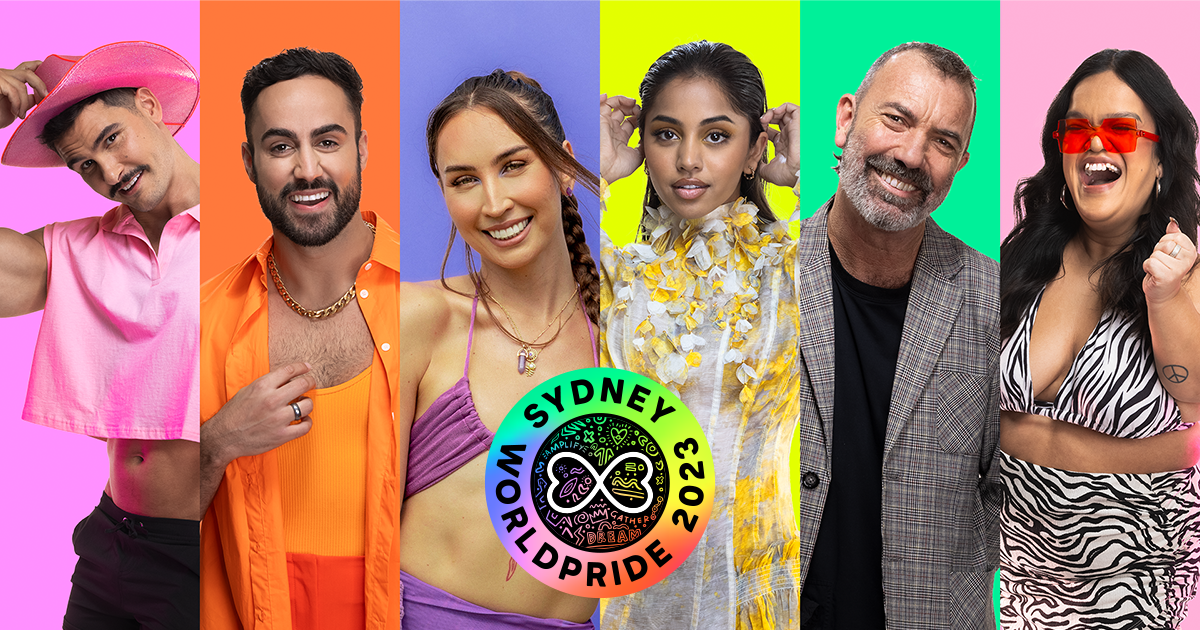 Sydney WorldPride will be the first WorldPride hosted in the Southern Hemisphere, featuring over 20 special major parties, concerts and performances, plus the largest LGBTQIA+ Human Rights Conference ever held in the Asia-Pacific region.
Incorporating all the beloved Sydney Gay and Lesbian Mardi Gras events, plus a broad festival offering across arts, sport, theatre, concerts, parties and First Nations programming, Sydney WorldPride will put Sydney's LGBTQIA+ community on a global stage.
To view the full program, visit the official Sydney WorldPride website. Tickets are on sale now!
Check out everything you need to know below.
Sydney WorldPride 2023
Fri 17 Feb - Sun 5 Mar 2023
Fri 24 Feb 2023 | Live and Proud: Sydney WorldPride Opening Concert
Sat 25 Feb 2023 | Mardi Gras Parade Sideshow
Sun 26 Feb 2023 | Domain Dance Party
Sun 26 Feb 2023 | Mardi Gras Parade Laneway
Wed 1 Mar 2023 | Mardi Gras Parade Diamond Club
Wed 1 Mar 2023 | Mardi Gras Kaftana Pool Party
Wed 1 Mar - Fri 3 Mar 2023 | Sydney WorldPride Human Rights Conference
Fri 3 Mar 2023 | Ultra Violet
Sat 4 Mar 2023 | Bondi Beach Party
Sun 5 Mar 2023 | Rainbow Republic
TIPS FOR SECURING TICKETS TO SYDNEY WORLDPRIDE 2023
· Make sure you have a Moshtix account. If you don't have a Moshtix Account, then make sure you sign up in advance
HERE
.
· Don't hit the refresh button - If you hit refresh, you'll most likely end up losing your place in the queue and nobody wants that!
· You will need to purchase each event in a separate transaction so make sure you are signed up and logged in with your attendee names and payment information ready to enter.
· Please note if you see allocation exhausted messaging on the ticket type you are looking to purchase, that means no tickets are available.
· Once your transaction is processed you will receive a confirmation email from Moshtix. P.S. Tickets will be sent out closer to the event date. Haven't received a confirmation email? Don't forget to check your junk inbox. If all else fails, please get in contact with our fan experience team via our tixsupport portal
HERE
.
· Not sure what events to attend? Explore the full program via the
Sydney WorldPride website
.
Here's everything else you need to know about Sydney WorldPride 2023
When is Sydney WorldPride?
Sydney WorldPride will take place Friday 17 February - Sunday 5 March 2023.
When do Sydney WorldPride tickets go on sale?
Tickets are on sale now!
Do I need a code to unlock tickets?
The General Public Onsale doesn't require any special codes, links or email signups to access tickets.
How many tickets can I buy in one transaction?
To keep it fair for everyone, we are maintaining a 6-ticket limit, per customer, per event for general onsale.
What payment options are available?
Moshtix accepts all major credit cards. Want to pay in instalments? You can now Buy Now, Pay Later over 10 weekly payments with LatitudePay. Find out more via the LatitudePay website.
When will I receive my tickets?
To reduce the unlawful resale of tickets (scalping), tickets for Sydney WorldPride 2023 Official Events will not be issued until close to the event date, however you will receive confirmation of purchase immediately, available to view in your Moshtix Account.
Can I change details on my tickets?
Yes, you will be able to reissue or change the name on your ticket. To find out how, click HERE.
What is the refund policy?
Before purchasing tickets, carefully review the event and ticket selection. Refunds or exchanges will not be given except due to event cancellation or rescheduling, or relocation of an event, or circumstances required by law or Live Performance Australia code of practice for Event Ticketing (www.liveperformance.com.au).
Refund liability is limited to the total amount of the ticket purchase (including any fees or charges). Sydney WorldPride and Moshtix will not be liable for any associated costs, expenses or losses (including without limitation, any indirect and/or consequential loss, such as for travel to the venue or any accommodation costs) incurred due to any cancellation, rescheduling or relocation.
Please note that refund protection is available for most tickets via Moshtix:
Click here for more information on Refund Protection through Booking Protect.
Where a refund is applicable, only the original ticket purchaser may apply for a refund. If a refund process is initiated, the ticket purchaser will be advised of the process and the prescribed deadline for refund, through the media or via direct communication, within 30 working days of the cancellation or rescheduling of the Event. The ticket purchaser must follow the prescribed process and deadline to be eligible for a refund.
Full Terms & Conditions can be found via the Sydney WorldPride website.
FOR MORE BREAKING NEWS CLICK HERE