#VAXTHENATION: A Live Industry Call Out To Stop The Interruptions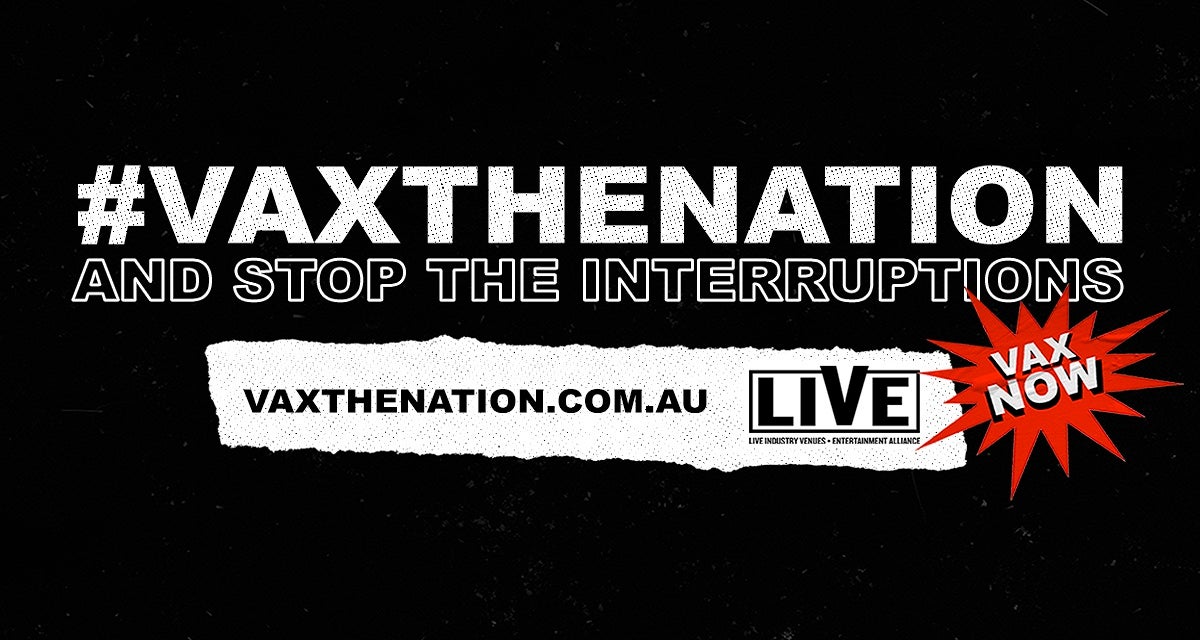 Australia's live entertainment industry has been dealt a massive blow over the past 18 months. More than 400 of Australia's biggest artists and performers have joined forces with leading tour promoters, music festivals, venues, ticketing agencies (including Moshtix!), record labels, comedy producers, theatre, opera and dance companies, media outlets, industry associations, peak bodies and global brands like YouTube and TikTok to launch #VAXTHENATION - a new campaign asking Australians to roll up their sleeves and get vaccinated to help 'stop the interruptions'.
Artists supporting the #VAXTHENATION campaign include the likes of Powderfinger, Jimmy Barnes, Tim Minchin, Celeste Barber, Vance Joy, Paul Kelly, Archie Roach, Guy Sebastian, Amy Shark, Birds Of Tokyo, Tom Gleeson, Hilltop Hoods, Nazeem Hussein, Marcia Hines, Midnight Oil, Briggs, Daryl Braithwaite, Human Nature, and countless more.
The campaign aims to remind all Australians of the magic of live events, with vaccination being the only way to break the cycle of lockdowns after the National Cabinet agreed on a target of 80% vaccination rate being an essential step in stopping the ongoing and devastating effect to our live entertainment and events industry.
"The impact of the pandemic on Australia's world-leading music, theatre, comedy, and live entertainment industries has been truly devastating. Getting vaccinated is the crucial step fans can take which will allow us to join together and enjoy the unbeatable magic of live performance once again." - LIVE Alliance members said.
"I understand people's hesitations. But this isn't an individual struggle, it's a public health concern that affects us as a whole - for some the reality of living with the virus is a life threat. Think collectively and community, listen to health professionals about how we can best protect each other and go back to being together! I wanna see people fill rooms again, knowing they're safe." - Alice Skye said.
"If you can get vaccinated you should, unless you can figure out another way out of this mundane lukewarm bath filled with piss of an era. The risks of side effects are low, it's going to be ok! Honestly, I'm fully vaxxed with no side effects! It's for the community as a whole, so take one for the team." - Amyl and The Sniffers said.
Help us stop the interruptions and get vaxxed as soon as you can. Every jab makes a difference, and every Australian can play their part. Let's get our live industry back on the road!
Head to the #VAXTHENATION website for further details and for info on where you can go to get the jab.
FOR MORE BREAKING NEWS CLICK HERE