The Red CentreNATS 2022 Program Enters Top Gear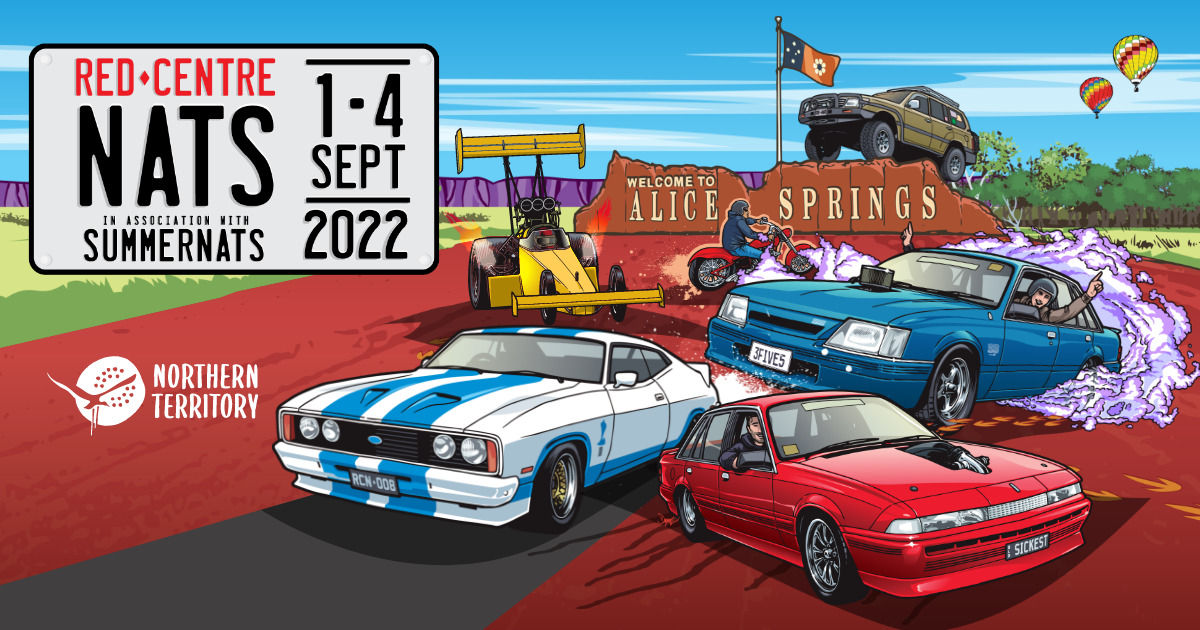 The Ultimate Festival of Wheels, Red CentreNATS returns to the stunning heart of Australia in September, and this year's program takes things up another notch with the inclusion of a Thursday evening qualifying program at Alice Springs Inland Dragway (ASID). The event will now run from Thursday 1 - Sunday 4 September 2022.
The additional evening is to cater for the ever-growing program, and will see ASID open qualifying for both Round 1 of the 2022/2023 Burson Auto Parts Australian Top Fuel Championship and Top Doorslammer Australia. This means the fastest cars on earth will be heading to the Red Centre! They will be joined by a huge range of modified vehicles cruising the streets thanks to the special temporary permit system only available at Red CentreNATS.
The program also includes the famous Yeperenye Street Parade, plus burnouts, drag racing, bikes, the Great Northern 4WD course, show cars, Shannons Show 'n' Shine, grass driving and Lasseters Motorkhana.
The free Podium Party will return on Sunday evening. This year, the fun will take place on the lawns at Lasseters Centre of Entertainment, and crowds will get to celebrate the weekend's winners and enjoy live music from high-energy AC/DC tribute band High Voltage.
Check out a few highlights from the 2022 program below and get your tickets sorted!
Red CentreNATS08
Thu 1 Sep - Sun 4 Sep 2022
Blatherskite Park and Alice Springs Inland Drags, NT
Street Cruising
Red CentreNATS is the only event in Australia where you can drive your highly modified, unregistered car on the streets, all thanks to the Northern Territory Government.
Burnouts
Keen for the smell of burning rubber? Kick-start your Red CentreNATS weekend with some totally outrageous tyre-shredding action at the Alice Springs Inland Dragway Burnout Pad. Screaming tyres and cheering crowds complete the experience. Don't miss the smoke storm that is the Burnout Championship and the Burnout Masters. Whose ride will survive?
Drag Racing
If you love the drags, (and let's be honest, who doesn't?) you'll love the Alice Springs Inland Dragway (ASID). This is where both seasoned and novice drag racers take on the infamous quarter mile. Head over to ASID on Saturday night after the Street Parade for drag racing with a difference - under lights! There's nothing quite like the sound, smell and sight of drag cars screaming past in the ultimate Drag Racing Championship.
Great Northern 4WD Course
Think you've got the most well-kitted out 4WD rig in town? Here's your chance to prove it. The Great Northern 4WD Track will test not only your driving skills, but also how your gear performs as you tackle off-road tracks filled with obstacles, log hops and barriers. This is not for the faint hearted. But then again, no event at Red CentreNATS is!
Want to check out the full program? Click HERE.
HERE'S EVERYTHING YOU NEED TO KNOW ABOUT RED CENTRENATS08
When and where will Red CentreNATS take place?
Red CentreNATS will take place between Thu 1 Sep - Sun 4 Sep 2022 at Blatherskite Park and Alice Springs Inland Drags, NT.
When do tickets go on sale?
Tickets are on sale now!
What payment options are available?
Moshtix accepts all major credit cards. Want to pay in instalments? You can now Buy Now, Pay Later over 10 weekly payments with LatitudePay. Find out more via the LatitudePay website.
FOR MORE BREAKING NEWS CLICK HERE