The Push All-Ages Tour Is Back For 2023 With Some Of Australia's Biggest Artists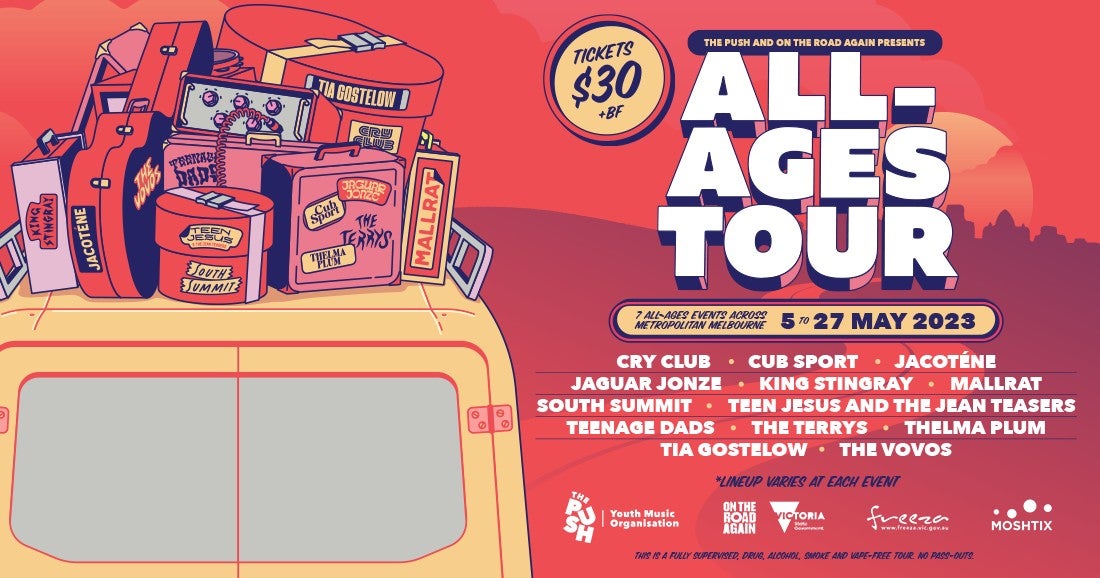 The Push All-Ages Tour has returned for another year and this time they're hitting the suburbs of Melbourne with a huge lineup featuring some of the nation's biggest acts!
With The Push's previous All-Ages Tour including sold out shows with the likes of Baker Boy, Alex Lahey, and Sycco - the 2023 tour sees a massive new lineup featuring some of Australia's most exciting artists including Thelma Plum, Mallrat, The Terrys, Cub Sport, King Stingray, Jaguar Jonze, Teenage Dads, Teen Jesus and the Jean Teasers, Cry Club, The Vovos, Tia Gostelow, South Summit, and JACOTÉNE.
As a part of the Victorian Government's On The Road Again program, the seven-date tour is being staged and programmed by teams of local young people, through the Victorian Government FReeZA program - a youth development initiative that provides young people with industry skills and experiences in staging events in their local communities.
Tickets to The Push All-Ages Tour 2023 are on sale now! Round up your crew and score your tickets below.
The Push All-Ages Tour 2023
Fri 5 May - Sat 27 May 2023
Melbourne, VIC
Fri 5 May 2023 | Brighton Town Hall, Brighton
Sun 7 May 2023 | Thornbury Theatre, Thornbury
Fri 12 May 2023 | Box Hill Town Hall, Box Hill
Sat 13 May 2023 | Glen Eira Auditorium, Caulfield
Fri 19 May 2023 | Hawthorn Arts Centre, Hawthorn
Fri 26 May 2023 | Clayton Hall, Clayton
Sat 27 May 2023 | The Centre Ivanhoe, Ivanhoe
FOR MORE BREAKING NEWS CLICK HERE