The Fully Loaded NYE On The Hill Lineup Is Here!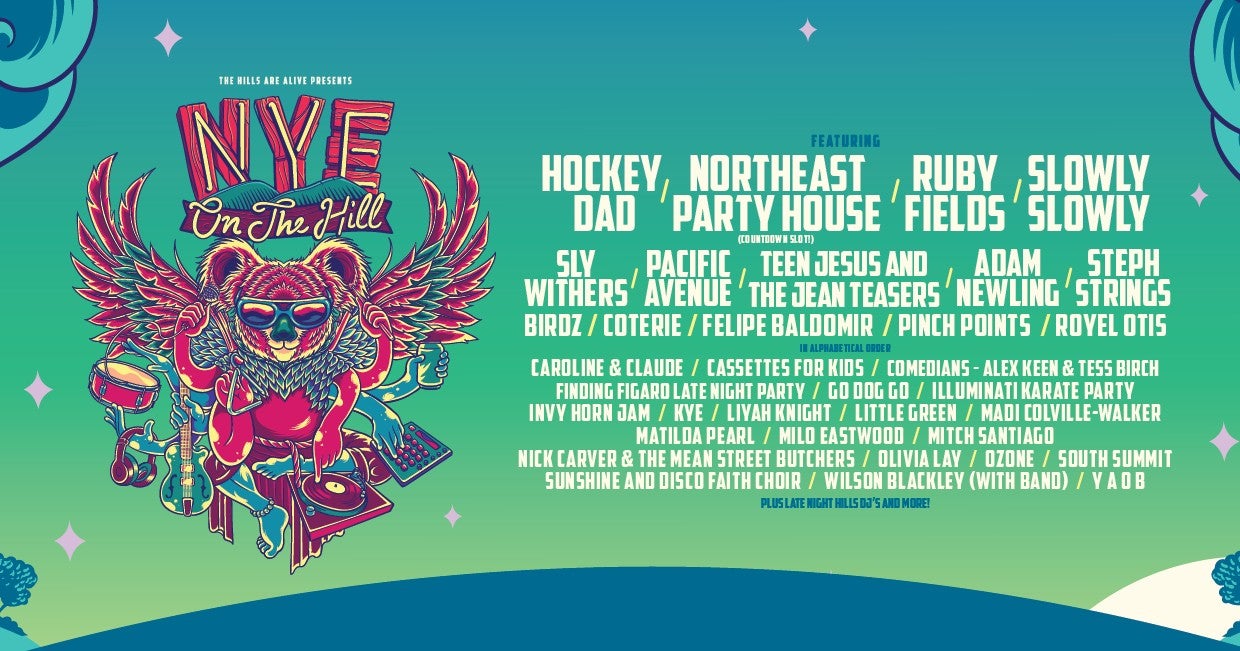 NYE On The Hill welcomes you back to the happy place. The place of Music Lovers' Dreams!
This year, we're all in for an amazing journey as we collectively time-travel from one glorious year into the next, arm-in-arm, surrounded by good friends we know and good friends we're yet to meet, enjoying the best musical offerings the land has to offer.
With a perfect location and an epic lineup featuring Hockey Dad, Northeast Party House, Ruby Fields, Slowly, Slowly and heaps more, there's no better way to reel in the New Year.
Tickets to NYE On The Hill are on sale now!
NYE On The Hill
Fri 30 Dec 2022 - Sun 1 Jan 2023
South Gippsland, VIC
FULL LINEUP
HOCKEY DAD

NORTHEAST PARTY HOUSE

RUBY FIELDS

SLOWLY SLOWLY

SLY WITHERS

PACIFIC AVENUE

TEEN JESUS AND THE JEAN TEASERS

ADAM NEWLING

STEPH STRINGS

BIRDZ

COTERIE

FELIPE BALDOMIR

PINCH POINTS

ROYEL OTIS

CAROLINE & CLAUDE

CASSETTES FOR KIDS

COMEDIAN - ALEX KEEN

COMEDIAN - TESS BIRCH

FINDING FIGARO LATE NIGHT PARTY

GO DOG GO

ILLUMINATI KARATE PARTY

INVY HORN JAM

KYE

LIYAH KNIGHT

LITTLE GREEN

MADI COLVILLE-WALKER

MATILDA PEARL

MILO EASTWOOD

MITCH SANTIAGO

NICK CARVER & THE MEAN ST BUTCHERS

OLIVIA LAY

OZONE

SOUTH SUMMIT

SUNSHINE AND DISCO FAITH CHOIR

WILSON BLACKLEY (WITH BAND)

Y A O B

PLUS LATE NIGHT HILLS DJ'S AND MORE!
Here's Everything You Need To Know About NYE On The Hill
When and where will NYE On The Hill take place?
NYE On The Hill will take place between Fri 30 Jan 2022 - Sun 1 Jan 2023 on 'The Hill' at 'The Farm.' The Farm is located 10 mins from Loch village and 95 mins south-east of Melbourne. The exact address will be emailed before the festival.
When do tickets go on sale?
Tickets are on sale now!
What payment options are available?
Moshtix accepts all major credit cards. Want to pay in instalments? You can now Buy Now, Pay Later over 10 weekly payments with LatitudePay. Find out more via the LatitudePay website.
FOR MORE BREAKING NEWS CLICK HERE