Teenage Joans Set New Record At Last Night's South Australian Music Awards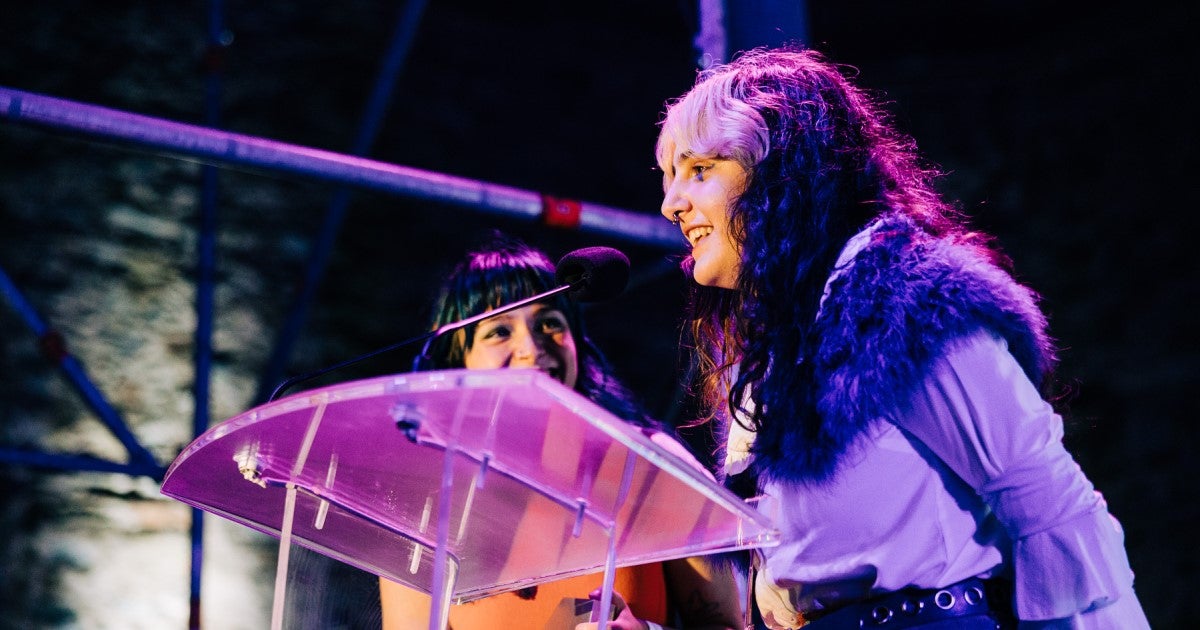 Last night the South Australian music industry came together live and in-person at the 2021 South Australian Music (SAM) Awards!
The sold-out gala event saw industry professionals and artists gather on the lawns of the Adelaide Gaol in a stellar evening of live performances and merriment, celebrating local music and the workers who have made live music possible even during what was a tumultuous year for the music and entertainment industry.
The big winners of the night were pop-punk duo Teenage Joans, who have officially set a new record for the SAMs for the most awards won by a single artist in the same year! They took home an impressive seven awards in their very first year as nominees! This record was previously held by West Thebarton, who scored four wins in 2018.
The triple j Unearthed High winners took out every single award category they were nominated for - Best Song, Best New Artist, Best Group, Best Release, Most Popular Punk Artist and Best Cover Art. Additionally, they were awarded the inaugural award for the City of Adelaide Exceptional Live Music Performance Award, which was decided by a collective of Adelaide-based original live music venues.
Alongside the publicly voted awards, the industry awards were decided by a panel of judges, which saw iconic local venue, Jive, take home Best Venue - this comes a year after the 'Keep Jive Alive' campaign where local music fans were asked to support the 20-year old venue through crowdfunding.
The Best Major Festival/Event award, which was presented by Moshtix, went to WOMADelaide. They're set up to celebrate their 30th year of bringing world music, art and dance to Adelaide next March.
The full list of winners is below!
2021 SOUTH AUSTRALIAN MUSIC AWARDS WINNERS
MAJOR/INDUSTRY VOTED AWARDS WINNERS
BEST STUDIO (Presented by Adelaide Music Collective) - TIE!
Chapel Lane Studios
Wundenberg's Recording Studio
BEST STUDIO ENGINEER/PRODUCER (Presented by SAE Institute Adelaide)
Kiah Gossner
BEST LIVE TECHNICIAN (Presented by Novatech)
Lisa Lane Collins
BEST MAJOR FESTIVAL/EVENT (Presented by MOSHTIX)
WOMADelaide
BEST SMALL FESTIVAL/EVENT (Presented by Pirate Life)
Space Jams South Coast Tour
BEST VENUE (Presented by AHA)
Jive
BEST COVER ART (Presented by Version Design)
Samuel Graves & Eve Burner (Teenage Joans - "Taste of Me")
BEST MANAGER (Presented by Association of Artist Managers)
Rachel Whitford
BEST MUSIC VIDEO (Presented by Alpha Box & Dice)
Harry Nathan (Glowing - "Poppy")
BEST SONG (Presented by APRA AMCOS)
Teenage Joans - "Something About Being Sixteen"
BEST NEW ARTIST (Presented by WOMADelaide)
Teenage Joans
BEST GROUP (Presented by Derringers Music)
Teenage Joans
BEST ABORIGINAL/TORRES STRAIT ISLANDER ARTIST (Presented by Centre for Aboriginal Studies in Music - CASM)
Tilly Tjala Thomas
BEST SOLO ARTIST (Presented by Media Arts Lawyers)
Motez
BEST RELEASE (Presented by themusic.com.au)
Teenage Joans - "Taste of Me"
BEST MUSIC EDUCATOR (Presented by SAMII)
Alison Hams
BEST INNOVATION (Presented by CityMag)
WOMADelaide x NSS Academy
PEOPLE'S CHOICE AWARDS WINNERS
BLUES & ROOTS (Presented by UniBar)
Cal Williams Jr
COUNTRY (Presented by Grace Emily Hotel)
Ricky Albeck & The Belair Line Band
ELECTRONIC (Presented by Fat Controller)
Motez
EXPERIMENTAL (Presented by The Lab)
Sons of Z ku
FOLK (Presented by The Wheatsheaf Hotel)
Siberian Tiger
HEAVY (Presented by ARMI)
Kitchen Witch
HIP HOP (Presented by The Gov)
Boffa
JAZZ (Presented by the Gilbert St Hotel)
Chelsea Lee
POP (Presented by Lion Arts Factory)
G-Nation
PUNK (Presented by Three D Radio)
Teenage Joans
ROCK (Presented by Jive)
TOWNS
SOUL/FUNK/R&B (Presented by Woodville Town Hall)
Mum Thinks Blue
2021 SPECIAL AWARD WINNERS
CITY OF ADELAIDE EXCEPTIONAL LIVE PERFORMANCE AWARD (Presented by City of Adelaide)
Teenage Joans
ADELAIDE UNESCO CITY OF MUSIC BEST INTERNATIONAL COLLABORATION (Presented by Adelaide UNESCO City of Music)
Lazaro Numa
EMILY BURROWS AWARD (Presented by APRA AMCOS)
Tilly Tjala Thomas
ROSANNA AND NEVILLE CLARK AWARD (Presented by Disk-Edits)
Ryan Martin John and Aidan Cibich
MUSIC SA COMMUNITY ACHIEVEMENT AWARD (Presented by Music SA)
Mick Wordley
FOR MORE BREAKING NEWS CLICK HERE