Take Five: Favourite 'It's Always Sunny In Philadelphia' Episodes By VOIID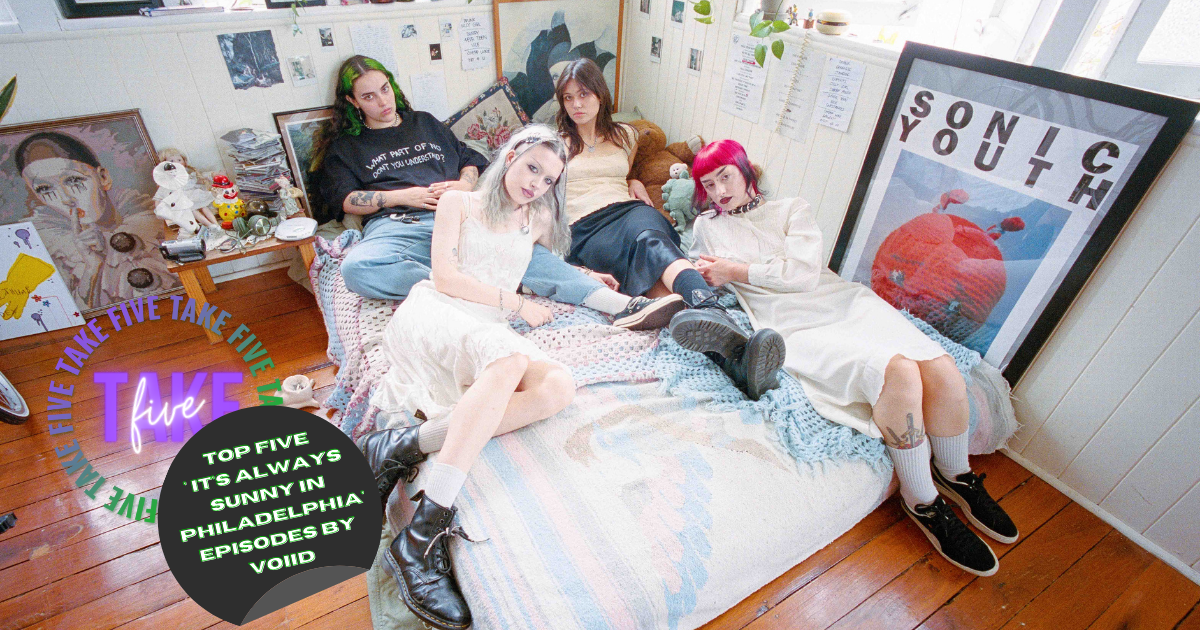 Brisbane based punk band VOIID are known for their high-energy performances and love for pop culture, just like the team here at Mosh! As the band prepare for their Watering Dead Flowers Tour set to kick off in June, hot on the heels of their latest LP, we're stoked to have had the opportunity to chat with the group about their top five Always Sunny In Philadelphia episodes.
Check out their top picks below and grab your tickets to catch them in the flesh!
Words by VOIID:
We'll take any opportunity to talk IASIP. Let's get reeeeeeeeeal weird with it.
*Disclaimer - Out of the dire need of some originality with lists like these that discuss the show's best episodes, there will be no 'The Nightman Cometh'. It's a five star episode, but you already know that.
Season 7 - Episode 3: 'Frank Reynold's Little Beauties'
Personally, this is the go-to episode when introducing someone to the show. Consistent jokes throughout, musical numbers, and Frank in make-up. If you don't f**k with this episode, you belong in the bathroom.
Season 3 - Episode 2: 'The Gang Gets Invincible'
This episode is severely underrated, and it's time to give it its flowers. Not only do we get to see the full extent of the McPoyle family, and the debut of 'green man', but you also get to see Donovan McNabb for a hot minute. I'm lovin' it.
Season 9 - Episode 3: 'The Gang Tries Desperately To Win An Award'
The chemistry within the gang in this episode is, ironically, really great. Some would say it's better than an orgasm. Watching the gangs failed attempts of bringing a charismatic charm to the bar, coupled with an outburst from Mac, is top-tier.
Season 2 - Episode 5: 'Hundred Dollar Baby'
Nothing is better than an unhinged Charlie, and this episode truly showcases not just that, but a rarely seen balls-to-the-wall insane Sweet Dee. Take all the weight on your neck, then jam your legs down and hyper-extend your ankles, and then shoot back up and lock your knees in place. Trust us!
Season 5 - Episode 7: 'The Gang Wrestles For The Troops'
Two things - Wrestling, and jean shorts. Need we say more? (Actually, we do - RIP "Rowdy" Roddy Piper).
Want more VOIID??? Catch the band on tour in June! Grab your tickets HERE.
FOR MORE BREAKING NEWS CLICK HERE