Take Five: Bag Raiders Top 5 Party Starters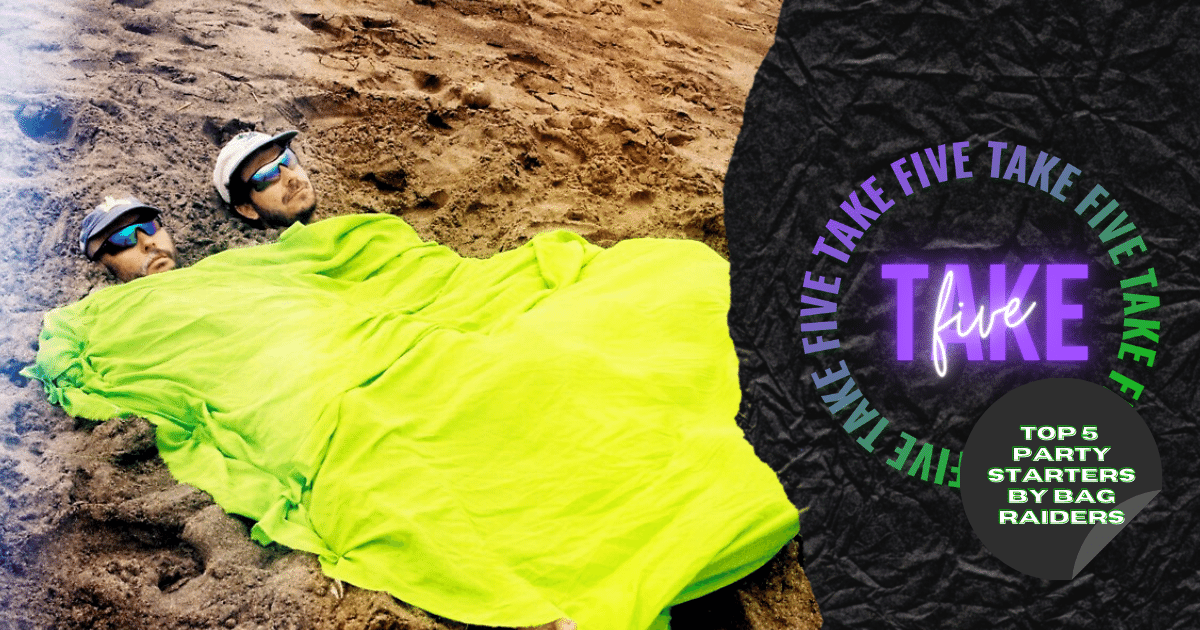 Picture this, you're at a house party and the DJ is running late, your mates are ready to get the party started so you whip out your phone and plug in the aux cord. A bead of sweat runs straight down your face as you nervously try to cue up a few tracks that won't have everyone running for the door. You remember this exact article written by Bag Raiders, Chris Stracey and decide to chuck on his Take Five: Top 5 party starters playlist HERE. The playlist is a huge success and the DJ walks in just as the last song begins. Your work here is done and you can continue dancing the night away.

Discover Bag Raiders top 5 party starters ahead of their Great Southern Nights 10 Year Classics DJ Set at the University of Wollongong UniBar below.
Words by: Chris Stracey
Ah remembering the parties of yore. An earlier time, a simpler time. When the night clubs were small, but the nights were extremely large. Oh, the times that were had, the friendships that were forged, and the music that soundtracked it all.
Cut Copy - Lights and Music (Boys Noize Happy Birthday Remix)
Already an Aussie festival favourite, when Boys Noize took on this Cut Copy classic and turned it into a wonky disco banger, it didn't leave my CD wallet for about 10 years. There was not a dance floor that could resist the magnitude of good times that this tune has to offer. Definitely has a very solid spot in my "classics" playlist.
The Similou - All This Love
Some songs are great catalysts for a perfect dance floor reaction and when this one comes out the speakers, it has the magical effect as if magnetic north had just changed position to the middle of the dance floor, and people just start coming out of the woodwork to throw a shape or two. A certified floor filler, All This Love is definitely a classic that finds its way into my New Year's Eve Playlist pretty much every year.


Armand Van Helden - My My My
Armand... Probably one of the most played artists in my collection. An undisputed lord of house music. This man has so many bangers it's hard to pick one but My My My does it every time for me. It's got a hot vocal, a hot bassline, some good old filtering and the drums to make you dance. Legendary stuff.
Groove Armada - Superstylin'
Huge... some tunes just have that swing to pull you in... Superstylin' was and is, a fantastic bass music banger that feels like it could have come out at any time in the last 10 years but it's turning 20 next year. This is one I grew up with but have been coming back to year after year, rinsing it at festivals and gigs all over Australia and the world, sometimes a party really calls for a tune like this, and when it lands, boy does it land.
K.I.M. - Party Machini
Well well well. Forget the "party starters", this one is a party elevator. There comes a time in every night where a decision is made on whether things will continue to bubble on as they are or if there is cause to hop on into the magical musical elevator and go up about 42 floors. For this endeavour, the track you are looking for must be not a party starter, but a party elevator. Party Machini is one such track. Play this one on the other side of midnight at the right party and you might find yourself in a totally different room from the one you entered.
The Bag Raiders perform an exclusive '10 Years Classics DJ Set' as part of Great Southern Nights concert series on Sun 29 November at the University of Wollongong UniBar - Get tickets HERE. You can also pre-order the Bag Raiders 10-year anniversary re-release limited edition vinyl and exclusive photo booklet HERE.
Discover some of Bag Raiders most prolific tracks below.
FOR MORE BREAKING NEWS CLICK HERE