Online Streaming Festival Isol-Aid Are Hosting A Digital Fundraiser Event For Afghanistan Tomorrow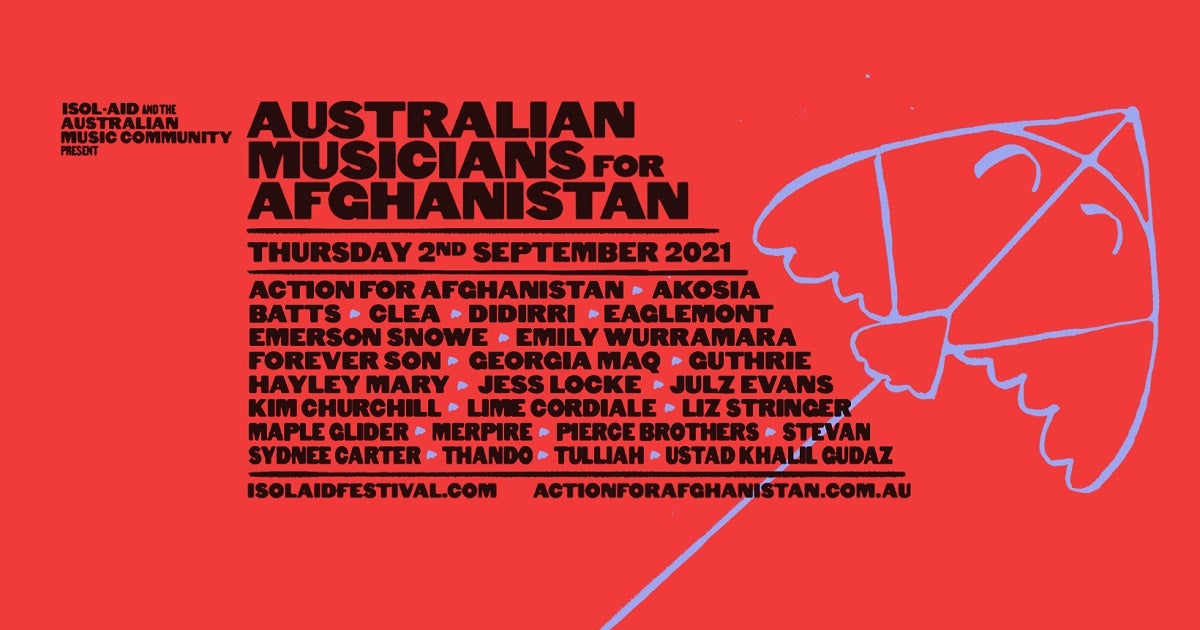 This Thursday, a lineup of Australia's best artists are set to stream live from their homes to raise money for the people of Afghanistan.
Online streaming festival Isol-Aid has teamed up with Didirri, Greg Carey, and Michael Ridgeway of Redfern based music company Grow Yourself Up, locking in a mammoth lineup of local artists including the likes of Hayley Mary, Lime Cordiale, Thando, Kim Churchill, Maple Glider, Emily Wurramara, Pierce Brothers, Stevan, and so many more.
The event will run from 3pm to 11pm on Thursday 2 September, with all artists playing live from their Instagram Accounts. Don't have Instagram? Tune in online via Isol-Aid's website.
Donations will be directed to Mahboba's Promise Afghan Relief Fund, ensuring the organisation can provide emergency shelter, food, water, medical and hygiene essentials as well as help their efforts to relocate people from Kabul to safer regions.
Check out the full lineup of acts performing on the day below.
Australian Musicians For Afghanistan
3pm - 11pm ~ Thu 2 September 2021
Featuring (in alphabetical order):
AKOSIA, BATTS, CLEA, DIDIRRI, EAGLEMONT, EMERSON SNOWE
EMILY WURRAMRA, FOREVER SON, GEORGIA MAQ, GUTHRIE, HAYLEY MARY
JESS LOCKE, JULZ EVANS, KIM CHURCHILL, LIME CORDIALE, LIZ STRINGER
MAPLE GLIDER, MERPIRE, PIERCE BROTHERS, STEVAN, SYDNEE CARTER
THANDO, TULLIAH, USTAD KHALIL GUDAZ
FOR MORE BREAKING NEWS CLICK HERE