Listen Up! Your Listen Out 2023 Lineup Just Landed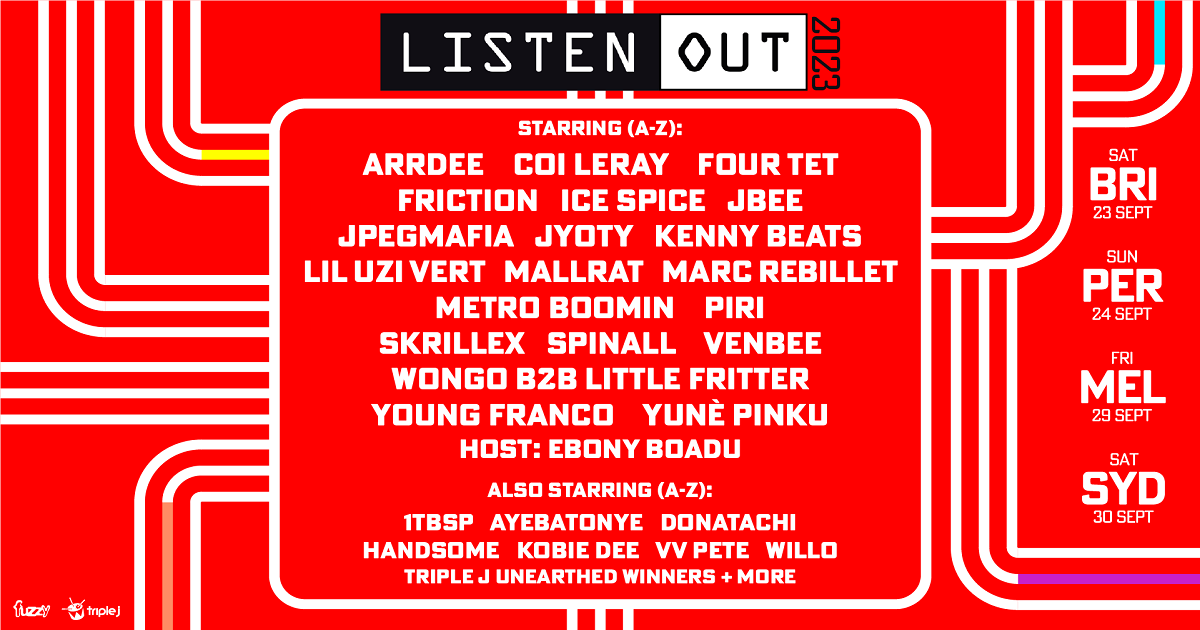 Listen Out is back for 2023 and it's time to DANCE. A huge lineup of international artists will join a stack of Australia's finest, bringing the good vibes to Brisbane, Perth, Melbourne and Sydney at the end of September.
Skrillex will be back in the country for the first time since Listen Out 2018 and will bring new material. It's been 5 years since visits from Lil Uzi Vert too. Kenny Beats will make his debut Australian appearance, having recently slayed it at Coachella. Diversity is at the forefront with Coi Leray, Piri and Venbee as they head to Australia for the first time. They'll hit the stages with Mallrat and Jyoty along with your host Ebony Boadu. The epic lineup will also host Ice Spice, Arrdee, Metro Boomin, Little Fritter and more!
The festival is returning to its usual stomping grounds in Brisbane, Sydney and Perth but is moving to a new venue in Melbourne's forgotten wonderland, Caribbean Gardens. There's HEAPS more space, with an easy to get around layout, better views of the stage and easy access with loads of parking and stacks of free buses from the train station.
South Australia won't be left hanging with Listen In Adelaide making its return and this year it's licensed all ages!
Tickets to all shows are on sale now!
Listen Out 2023
Fri 22 Sep - Sat 30 Sep 2023
Various Venues, AU
ADELAIDE | Fri 22 Sep 2023 | Ellis Park, SA
BRISBANE | Sat 23 Sep 2023 | Brisbane Showgrounds, QLD
PERTH | Sun 24 Sep 2023 | HBF Arena, WA
MELBOURNE | Fri 29 Sep 2023 | Caribbean Gardens, VIC
SYDNEY | Sat 30 Sep 2023 | Centennial Park, NSW
LINEUP
Starring (A-Z)
ARRDEE | COI LERAY | FOUR TET | FRICTION
JBEE | JPEGMAFIA | JYOTY
KENNY BEATS | LIL UZI VERT | MALLRAT
MARC REBILLET | METRO BOOMIN | PIRI | SKRILLEX
SPINALL | VENBEE | WONGO B2B LITTLE FRITTER
YOUNG FRANCO | YUN PINKU
With host EBONY BOADU
Also Starring (A-Z)
1TBSP | AYEBATONYE | DONATACHI | HANDSOME
KOBIE DEE | VV PETE | WILLO
Plus triple j Unearthed artists to be announced
+ more
Listen In Adelaide 2023
Starring (A-Z)
ARRDEE | FRICTION
LIL UZI VERT | MARC REBILLET
PIRI | SKRILLEX
Plus triple j Unearthed artist to be announced
+ more
HERE'S EVERYTHING YOU NEED TO KNOW ABOUT LISTEN OUT 2023!
When do tickets go on sale?
Tickets to all shows are on sale now!
Will there be VIP tickets available?
Yes! Upgrade to VIP and take advantage of a quick VIP entry, dedicated VIP area with bar, heaps of toilets, exclusive viewing platform, complimentary concierge and phone charging.
Important Ticketing Information
Moshtix is the only official online ticketing outlet. We urge you to double check you are purchasing from Moshtix only, and not a third-party ticketing website. We cannot confirm the legitimacy of any tickets purchased via a third-party ticketing outlet and don't want to see you be scammed out of your hard-earned money.
If you are purchasing for your friends too, make sure you have everyone's full name and date of birth ready to go. If you need to reissue a ticket for the incorrect spelling or DOB, there is a $12.50 reissue fee, so make sure it's correct to start with.
FOR MORE BREAKING NEWS CLICK HERE