#KEEPYOURDIS-DANCE: New Aussie And Kiwi Releases To Listen To This Week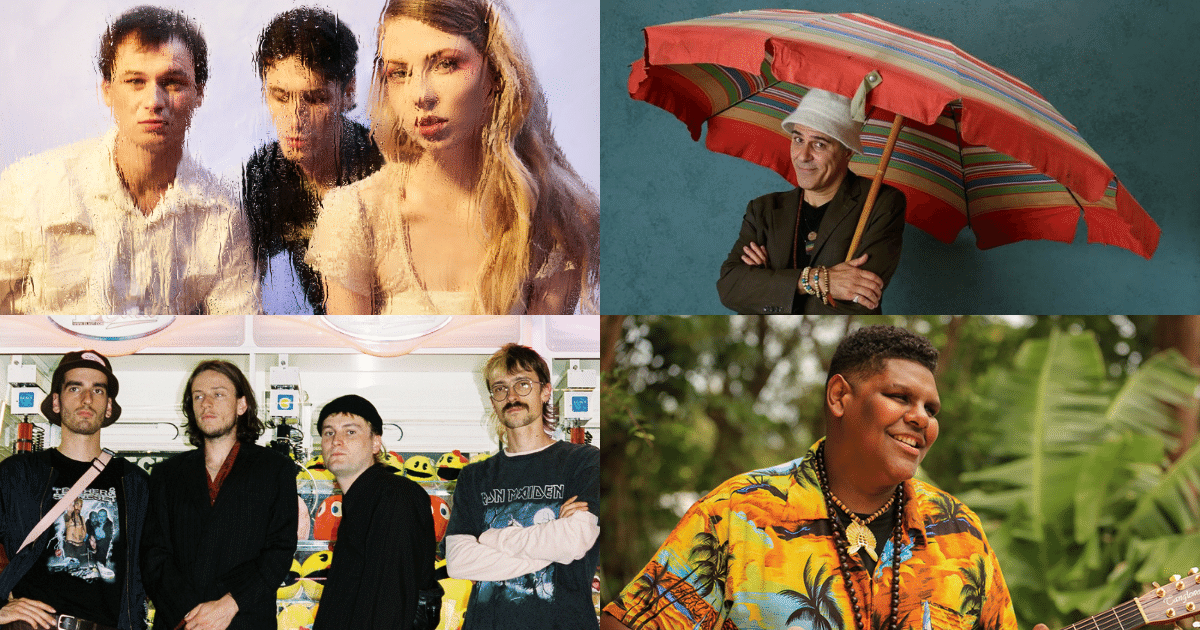 As the music industry continues to face the very real effects of the ever-evolving global health crisis, there has never been a better time to support the local music scene by getting stuck into some new music from local Australian and New Zealand artists.
We've curated our very own playlist to share fresh local music releases so that you can help support musos through this tough time. Check out some of our favourite new releases below.

New this week:
Proto Moro - THE 63
Starting out with a little flute hook played inside of a tiny room in Coburg, Melbourne-four piece Proto Moro have dropped the first track off their forthcoming album PROTOSYNTHESIS. 'The 63' is a beautiful melting pot of psychedelia, jazz, funk and everything in between. A dance-floor certified hit in our opinion!
Listen to the new track in full HERE.
The Goon Sax - In The Stone
This week the Goon Sax announced their forthcoming album 'Mirror II', dropping the first single off the album titled 'In The Stone'. The track takes you on an eclectic journey full of funky basslines and layered vocals.
Listen to 'In The Stone' HERE. You can also catch the three-piece performing live in Sydney at Mary's Underground, Sat 29 May. More info and tickets HERE.
Chris Tamwoy - Reality Is
Drawing profound inspiration from his identity as a Torres Strait Islander and celebrating the cultural traditions and natural rhythms of his island homeland, rising star Chris Tamwoy captivating title track from his debut studio album 'Reality Is', is certainly something special indeed. The track showcases Tamwoy's signature virtuosic guitar-tap style and boasts a suite of mesmerising vocal performances delivered in a mix of Eastern and Western Torres Strait Islander language, Creole, and English.
Listen to 'Reality Is' HERE.
Nicky Bomba - Malibu
Enigmatic performer, producer and lifelong troubadour Nicky Bomba delivers his first solo release in 10 years, titled 'Malibu'. The single distils some classic sentiment and the tangy twist of Bomba's signature world-pop flare.
Listen to Bomba's new track HERE. You can also catch Bomba performing live across Australia this month. More info and tickets HERE.


Other noteworthy releases:
Camp 8 - Honey
If you don't have Camp 8 on your radar, then we suggest you start paying attention. the Melbourne-based, Christchurch born songwriter dripped his toes into the scene in early 2019 and has since climbed up the ranks, releasing his debut EP in 2020 and this week a brand new single titled 'Honey'. Camp 8's sound is a delightful mix of downtempo beats and spine-tingling vocals, packed full of raw emotion.
Listen to Camp 8's new track 'Honey' HERE.
CXLOE - Cry & Drive
I'm not crying, you are! Dark-pop singer CXLOE just released a new single that has brought us to tears. Titled 'Cry & Drive', the track is steeped in the intense emotions after losing a loved one. The song also features a short voicemail from CXLOE's grandmother who recently passed, adding an extra personal dimension.
Listen to 'Cry & Drive' HERE.


REMI - Fried
Australian Hip Hop duo REMI (Remi Kolawole and Sensible J) have played a pivotal role in the new era of Aussie hip hop and have just released their third, full-length album titled 'Fried'. The album marks the creative end of the duo, who bow out of the music partnership after producing a massive catalogue of tracks together.
Listen to the album in full HERE.
Milan Ring ft. Che Lingo - BS
Multi-instrumentalist Milan Ring is causing a stir in the Mosh office after dropping her new single 'BS'. Featuring London rapper Che Lingo, the track demands your attention right from the onset, with the duo's voices unleashing a unique and powerful joint sound.
Listen to 'BS' in full HERE. Wanna see Milan Ring live? Don't miss out on her appearance at Oxford Art Factory's The Weekly Series on Wed 9 June. More info and tickets HERE.
Abby Bella May - I Am Sensitive
Sydney dream-pop artist Abby Bella May has dropped a brand new EP titled 'I Am Sensitive' and we reckon it's a bit of alright. Each of the seven tracks featured on the EP features Abby's signature lo-fi sound, combining floating vocals with quirky electronic driven beats.
Listen to the entire EP HERE.
Harper Finn - She Said
Rising Kiwi singer-songwriter Harper Finn showcases his incredible electro-pop sound in his latest release titled 'She Said.'
Listen to Harper's new single HERE. You can also catch him performing live across New Zealand this May alongside trio LA Women. More info and tickets HERE.
Bliss n Eso ft. Kasey Chambers - Good People
Hip hop legends Bliss n Eso have today revealed their brand new single titled 'Good People'. The track features iconic country music singer-songwriter, Kasey Chambers. Along with the single announcement, the trio also announced their 2021 Send It Tour, kicking off this June/July. More info HERE.
Listen to Bliss n Eso's new single HERE.
ASHWARYA - To The Night
Melbourne rising star ASHWARYA is back in a big way in 2021, dropping a huge new single in collaboration with hip hop heavyweight, Vic Mensa. The new single is the singer-songwriter's first release of the year and we can't wait to hear more!
Listen to the track in full HERE.
Swaine Delgado - Brushed
Aussie producer Swaine Delgado has just dropped a shiny new EP titled 'Brushed'. The entire EP is stuffed to the brim with dreamy vocals and smooth funky electronic beats. A must listen in our books!
Give the EP a listen HERE.
Suza - Oracle
We're absolutely obsessed with Kiwi singer-songwriter Suza and her latest release titled 'Oracle'! The dark-pop track is infused with just the right amount of moody vocals and emotionally charged electronic beats.
Give 'Oracle' a listen HERE.
EAST AV3 ft. George Alice - Do It All Again
Adelaide three-piece EAST AV3 have just dropped a brand new track in collaboration with local rising star, George Alice. Titled 'Do It All Again", the track has just the right amount of funky pop rhythm to get those arms and legs of yours moving. We reckon it's a match made in Adelaide heaven!
Listen to 'Do It All Again' HERE.
B Wise - Who?!
After dropping a fire single with longtime collaborator Manu Crooks earlier this year, the modern Hip Hop mainstay B Wise has backed it up with another fat track titled 'Who?!.' The single, which features on the rappers forthcoming album is a trap ladened masterpiece that we suggest you hit play on ASAP.
Listen to the new single in full HERE.
Mazbou Q - Pour One Out
UK-born, Tamaki Makaurau based rapper Mazbou Q began the rollout of fortnightly single releases last month and his latest release 'Pour One Out' is an absolute vibe. Drenched in funky beats and powerful lyrics, this track is a must-listen. Give it a spin HERE.
Teenage Joans - Ice Cream
triple j Unearthed High winners of 2020, Teenage Joans have just dropped their latest single 'Ice Cream', a track featured on their forthcoming debut EP. Despite now craving ice cream, this track is an absolute gem in our books. It's full of sun-drenched pop-punk guitar notes and super fun playful vocals.
Give the track a listen HERE.
Dallas Woods ft. Kee'ahn - Stranger
Local MC and rap extraordinaire Dallas Woods returns with a bangin' new single titled 'Stranger.' The track features stunning vocals from rising star Kee'ahn that blend seamlessly into Woods signature rap style.
Listen to 'Stranger' in full HERE.


Telenova - Bones
Melbourne three-piece Telenova has released their debut single 'Bones' alongside a live performance video recorded at The Night Cat in Melbourne. The track is chock-full of all the good stuff, seamlessly fusing dreamy basslines with alluring and angelic-like vocals.
Listen to 'Bones' in full HERE.
CRYSTAL - One Dollar Pizza
Emerging Wellington-based pop artist CRYSTAL has shared her first single of 2021 titled 'One Dollar Pizza.' The track follows on from her 2020 single 'The Chase' and celebrates CRYSTAL'S love for New York City, and subsequently NYC famous $1 pizza slices.
Listen to 'One Dollar Pizza' HERE.
Looking for ways to support artists through these tough times? Here are some simple ways you can help!
1. Buy some Australian and New Zealand music and merchandise directly from the artist's website or via Bandcamp.
2. Consider donating your refunds or a portion for cancelled shows to Support Act's The Sound of Silence fundraiser.
3. Spread the word and contact your fave radio station and ask them to play tracks from local acts you'd love to hear over the airwaves.
4. Buy tickets to artists rescheduled shows as soon as they become available.
Keep streaming your fave local acts on streaming services like Spotify and Apple Music!
FOR MORE BREAKING NEWS CLICK HERE