CMC Rocks QLD 2023: Resale And Transport Tickets On Sale Now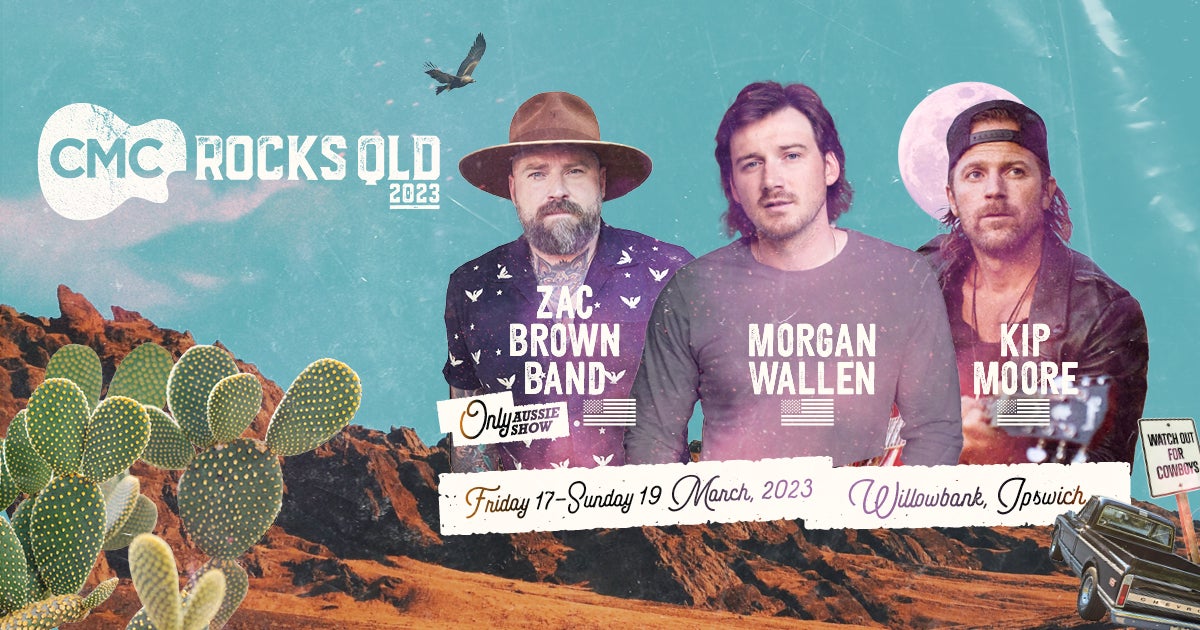 After delivering an epic homecoming event last month, CMC Rocks QLD reveals an absolute ripper of a lineup for its 16th Anniversary event in 2023!
Between Wednesday 15 and Sunday 19 March 2023, Australia's premiere international country music festival will return, helmed by some of the hottest talent Willowbank, Ipswich has ever seen! In an incredible coup, CMC Rocks QLD has secured US superstar Morgan Wallen, alongside Zac Brown Band, in their only Australian appearance, as well as festival favourite Kip Moore to lead the starstudded lineup for 2023.
A massive twenty international and ten brilliant local acts are gearing up to blow the lid off the CMC Rocks stages in March, some of whom will be making anticipated festival debuts and others already very close to the hearts of the Rocks community.
Jordan Davis, Hardy, Randy Houser, Bailey Zimmerman, Ashley McBryde and Mitchell Tenpenny lead the charge of stellar US talent for 2023. Cam will make her CMC Rocks sophomore appearance, whilst Ernest, Warren Zeiders, Corey Kent and Hailey Whitters all perform for the very first time. Home Free, Caroline Jones, Madeline Edwards, Brittney Spencer, Jim Lauderdale and Abby Christo round out one of the hottest international lineups the festival has ever delivered.
Resale and transport tickets to CMC Rocks QLD 2023 are now available to purchase! Check out the details and check for tickets below.
CMC Rocks QLD 2023
Fri 17 Mar - Sun 19 Mar 2023
Willowbank, Ipswich
Full Lineup
ZAC BROWN BAND | MORGAN WALLEN | KIP MOORE
JORDAN DAVIS | HARDY | RANDY HOUSER | MITCHELL TENPENNY | ASHLEY MCBRYDE
CAM | BAILEY ZIMMERMAN | ERNEST | WARREN ZEIDERS | COREY KENT
THE WOLFE BROTHERS | TRAVIS COLLINS | HAILEY WHITTERS
HOME FREE | CAROLINE JONES | MADELINE EDWARDS | BRITTNEY SPENCER
JIM LAUDERDALE | DARLINGHURST | CAITLYN SHADBOLT | ABBY CHRISTO
THE BUCKLEYS | BLAKE O'CONNOR | SARA BERKI | MAX JACKSON
HAYLEY MARSTEN | LANE PITTMAN
HERE'S EVERYTHING YOU NEED TO KNOW ABOUT CMC ROCKS QLD 2023
When and where is CMC Rocks QLD 2023?
CMC Rocks QLD 2023 will take place between Fri 17 Mar - Sun 19 Mar 2023 in Willowbank, Ipswich, QLD.
How do I score resale tickets?
The official Resale facility for CMC Rocks QLD 2023 is now open! Resale tickets can be purchased HERE. Resale tickets will be available to purchase until 5pm AEST Thu 9 Mar.
How do I purchase bus tickets?
All transport tickets can be purchased HERE!
What payment options are available?
Moshtix accepts Mastercard & Visa.
FOR MORE BREAKING NEWS CLICK HERE