Celebrate 30 Years of Chapter Music With A Huge All Day Party In Melbourne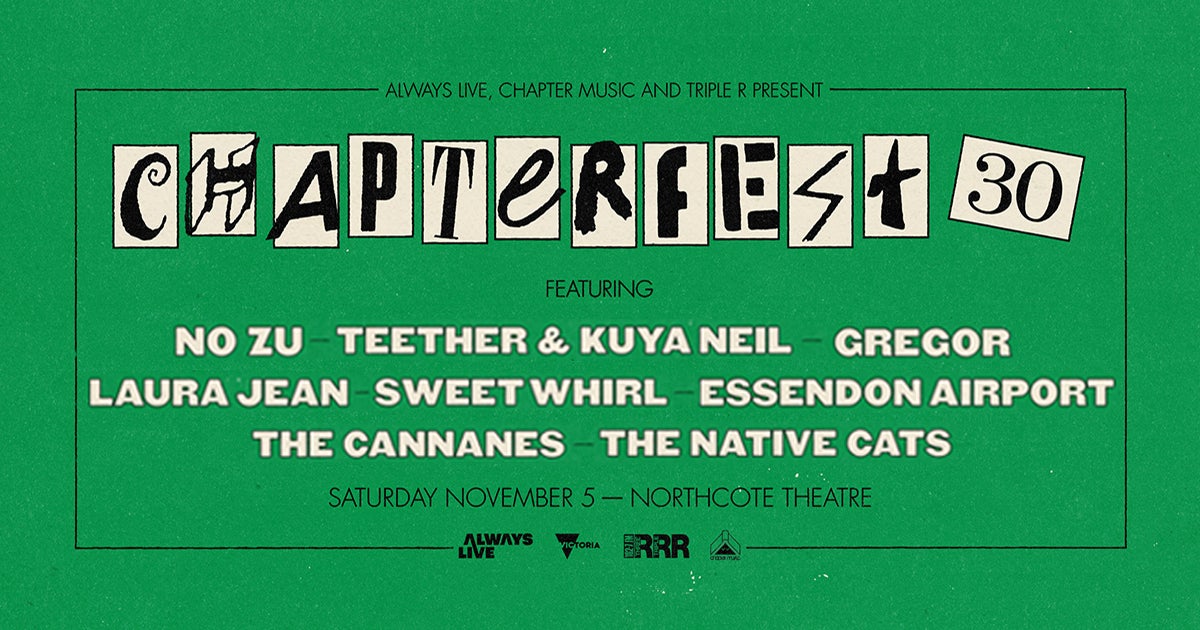 To celebrate their 30th birthday, Always Live, Chapter Music and Triple R present Chapterfest 30, a huge all day party featuring artists from across the label's three decade lifespan!
Since 1992, Chapter Music has championed adventurous and intelligent Australian music, making it one of the longest running independent record labels in the nation.
The lineup is of course wide, varied and sensational. Melbourne's Heat Beat icons NO ZU return to live performance for the first time since the passing of cherished vocalist Daphne Camf. Revered Sydney songwriter Laura Jean plays an intimate solo set, the day after releasing her brand new album Amateurs. Eccentric pop auteur Gregor and band play their first Melbourne show since the release of 2020 album Destiny and assured noir pop artist Sweet Whirl will play a rare full band set featuring songs from her 2020 modern classic How Much Works. The lineup will also feature performances by future rap duo Teether & Kuya Neil, 80s post-punk heroes Essendon Airport, Sydney pop icons The Cannanes and Hobart's much-loved The Native Cats.
Tickets to Chapterfest 30 are on sale now! Check out the lineup below and get your tickets sorted.
Chapterfest 30
Sat 5 Nov 2022
Northcote Theatre, VIC
Lineup
NO ZU
LAURA JEAN
GREGOR
SWEET WHIRL
TEETHER & KUYA NEIL
ESSENDON AIRPORT
THE CANNANES
THE NATIVE CATS
FOR MORE BREAKING NEWS CLICK HERE