Bluesfest Announces Its Final List Of Artists For 2022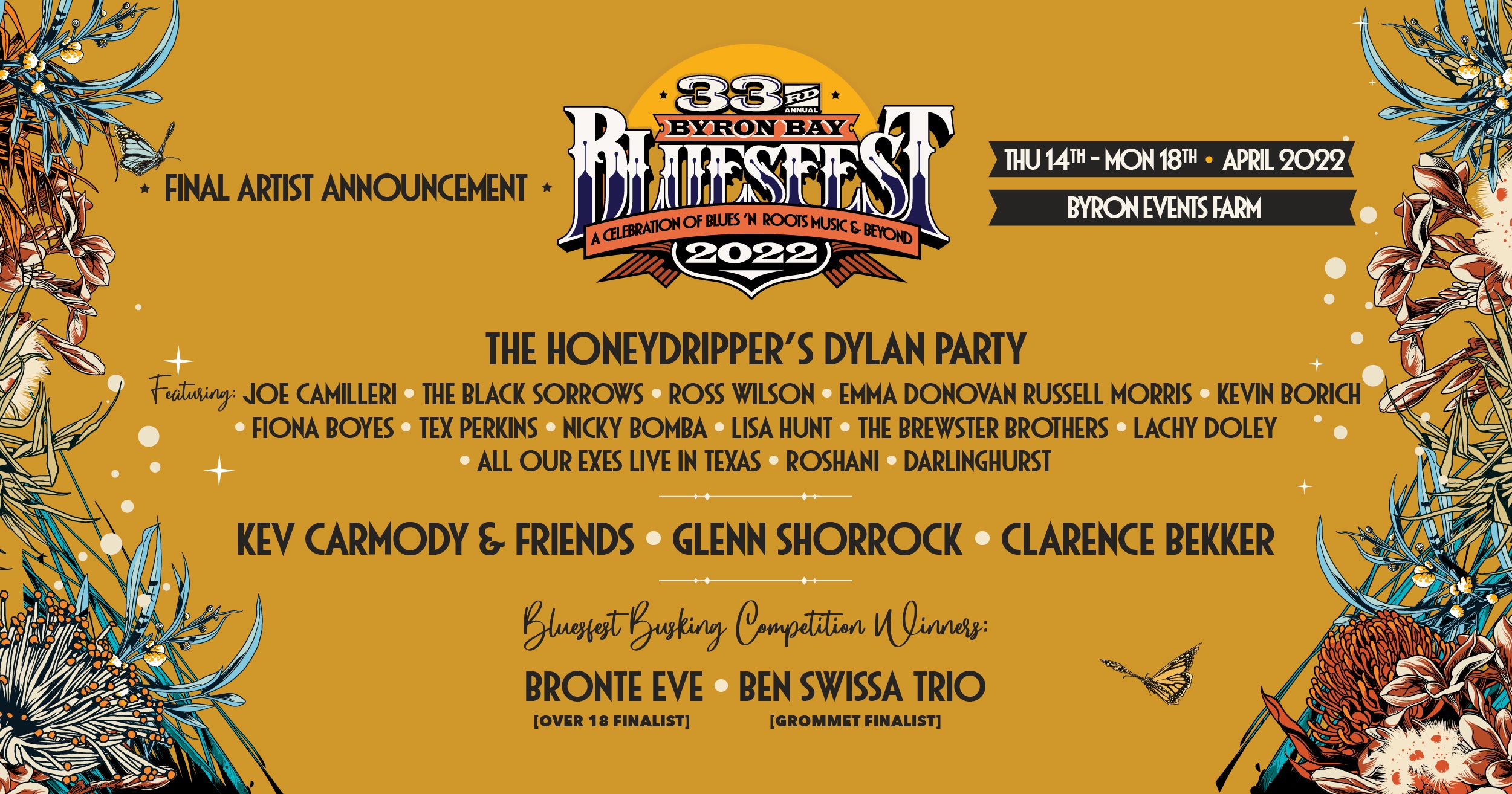 Bluesfest has just added the final cherry on the top of the decadent lineup for their 2022 event, welcoming even more stars to its already jam-packed bill.
Say hello to the latest additions: The Honeydripper's Dylan Party featuring Joe Camilleri, The Black Sorrows, Ross Wilson, Emma Donovan, Russell Morris and more, as well as Kev Carmody & Friends, Glenn Shorrock and Clarence Bekker.
Bluesfest's Busting competition winners Bronte Eve and Ben Swissa Trio will also be joining the star-studded bill, captivating audiences with genre-bending tracks.
With 106 artists and 200 performances over 5 days, this edition of Bluesfest is going to be the biggest and best yet.
Bluesfest Director Peter Noble OAM said:
" When Bluesfest returns - it will be with a bang... This Bluesfest is the greatest gathering of Australian artists in the history of Australian music. There's never been a lineup like this before - and may never ever be repeated
The new additions will join previously announced artists including the likes of Crowded House, The Cat Empire, Midnight Oil, Paul Kelly, Jimmy Barnes, Amy Shark, The Teskey Brothers, SIX60, Fat Freddy's Drop, L.A.B, John Butler, Xavier Rudd and heaps more.
Some of these artists can also be found at Bluesfest's official sideshows - check out the details on what is available via Moshtix and Ticketmaster, below!
Bluesfest 2022 kicks off on Thursday 14 April, running until Monday 18 April at the Byron Events Farm, Tyagarah. All ticket options, plus camping, parking, and VIP for the festival are on sale now, so round up your crew and score tickets ASAP.
Bluesfest 2022
Thursday 14 - Monday 18 April 2022 | Byron Events Farm, NSW

THE HONEYDRIPPER'S DYLAN PARTY
featuring
JOE CAMILLERI | THE BLACK SORROWS
ROSS WILSON | EMMA DONOVAN | RUSSELL MORRIS
KEVIN BORICH | FIONA BOYES | TEX PERKINS
NICKY BOMBA | LISA HUNT | THE BREWSTER BROTHERS
LACHY DOLEY | ALL OUR EXES LIVE IN TEXAS
ROSHANI | DARLINGHURST

***********

KEV CARMODY & FRIENDS
GLENN SHORROCK
CLARENCE BEKKER

*********
and Bluesfest Busking Competition Winners

BRONTE EVE (over 18) | BEN SWISSA TRIO (Grommets)
Previously announced acts
CROWDED HOUSE
GEORGE BENSON | MORCHEEBA | THE WAILERS
THE MARCUS KING BAND | AMADOU & MARIUM | THE WAR & TREATY
CHRISTONE "KINGFISH" INGRAM | CORY HENRY
MIDNIGHT OIL | PAUL KELLY | JIMMY BARNES
AMY SHARK | THE TESKEY BROTHERS | SIX60 | FAT FREDDY'S DROP | L.A.B
JOHN BUTLER | XAVIER RUDD | MISSY HIGGINS | KASEY CHAMBERS
HOODOO GURUS | IAN MOSS | THE LIVING END | PETE MURRAY
THE WAIFS | JON STEVENS | KATE CEBERANO | JOHN WILLIAMSON
THE CHURCH | RENEE GEYER | TEX PERKINS THE MAN IN BLACK | VIKA & LINDA
HIATUS KAIYOTE | THE BLACK SORROWS | THE ANGELS | RUSSELL MORRIS | CASEY BARNES
DIESEL | KATE MILLER-HEIDKE | BAKER BOY | MARK SEYMOUR & THE UNDERTOW
STAN WALKER | JOSH TESKEY & ASH GRUNWALD | ALL OUR EXES LIVE IN TEXAS
ROSS WILSON and THE PEACENIKS | JEFF MARTIN PLAYS THE SONGS OF LED ZEPPELIN
TROY CASSAR-DALEY | BRIGGS | KARA GRAINGER | WEDDINGS PARTIES ANYTHING
CW STONEKING | THE BAMBOOS | CHAIN | BACKSLIDERS | 19-TWENTY
ASH GRUNWALD | MELBOURNE SKA ORCHESTRA | JEFF LANG | SAM TESKEY
NATHAN CAVALERI | KIM CHURCHILL | HENRY WAGONS | JK-47 | GARRETT KATO | FOOLS
MAMA KIN SPENDER | DAMI IM | PIERCE BROTHERS | EMILY WURRAMARA | THE BUCKLEYS
FIONA BOYES & THE FORTUNE TELLERS RAY BEADLE PACEY, KING & DOLEY
MICK THOMAS' ROVING COMMISSION | HUSSY HICKS | ROSHANI | DANIEL CHAMPAGNE
LITTLE GEORGIA LAMBROS. | ROUND MOUNTAIN GIRLS | THE REGIME
ELECTRIK LEMONADE | PALM VALLEY | KEVIN BORICH
EXPRESS LACHY DOLEY & THE HORNS OF CONVICTION | LISA HUNT'S FOREVER SOUL
GEOFF ACHISON & THE SOULDIGGERS | HAT FITZ & CARA
BYRON BUSKING COMPETITION
ROCKWIZ LIVE
Bluesfest Touring - Official Sideshows
GEORGE BENSON
Monday 11
th
April 2022
Wednesday 13
th
April 2022
Thursday 14
th
April 2022
State Theatre, Sydney, NSW
Tuesday 19
th
April 2022
Wednesday 20
th
April 2022
Palais Theatre, Melbourne, VIC



Tuesday 12th April 2022
170 Russell, Melbourne, VIC


Friday 22
nd
April 2022
170 Russell, Melbourne, VIC

GET TICKETS

Wednesday 13th April 2022
170 Russell, Melbourne, VIC
FOR MORE BREAKING NEWS CLICK HERE