Beacon Festival Drops Another Huge Lineup Announcement For 2023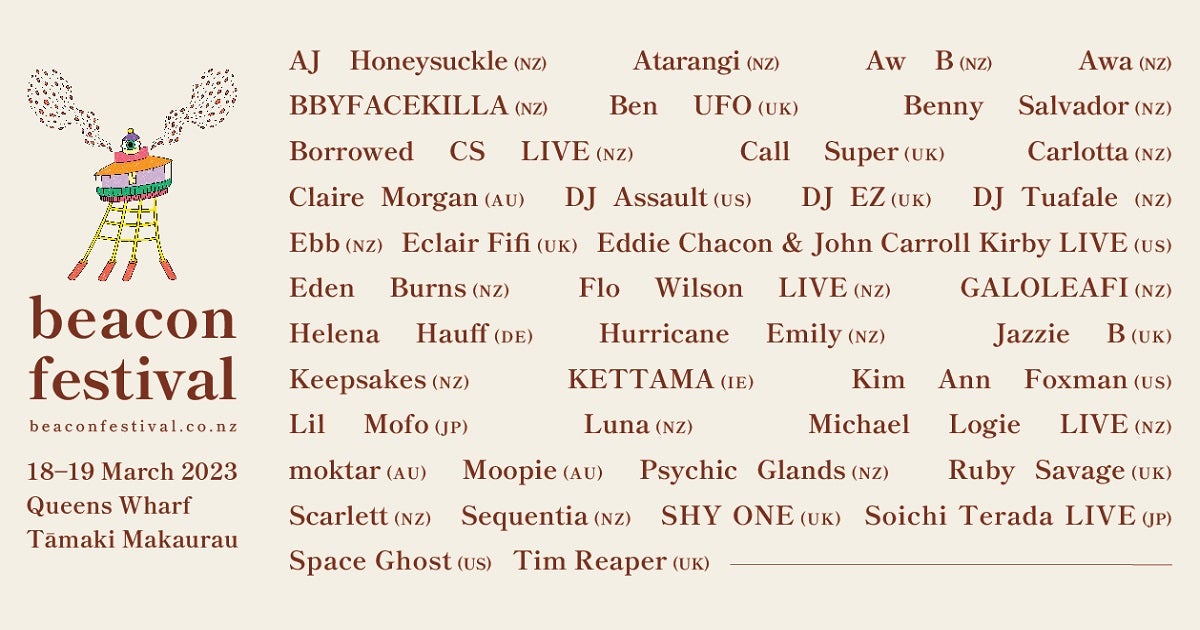 This March, the third edition of Beacon Festival will take over Auckland's iconic Queen's Wharf and the team have just dropped a massive lineup update!
Beacon Festival is an open-air celebration featuring the best electronic music the world has to offer. This time, Beacon is bigger and better than ever, running over two days with a huge lineup of local and international acts.
Please welcome the addition of Berlin-based techno weapon Claire Morgan, Detroit ghettotech legend DJ Assault, LA soul-jazz troubadours Eddie Chacon & John Carroll Kirby, Ireland's emerging club king KETTAMA, your favourite DJ's favourite DJ Lil Mofo, Melbourne stalwart Moopie & London's queen of the scene SHY ONE alongside some of Aotearoa's finest electronic talent in: AJ Honeysuckle, Aw B, Awa, Benny Salvador, Borrowed CS LIVE, Carlotta, Ebb, Eden Burns, GALOLEAFI, Hurricane Emily, DJ Tu fale, Michael Logie LIVE and Scarlett & Sequentia.
The first lineup announcement, and joining the festival for their debuts in Aotearoa, featured Helena Hauff, Kim Ann, Foxman, moktar, Soichi Terada, Space Ghost and Tim Reaper. We also welcome back to the motu Ben UFO, Call Super, DJ EZ, Eclair Fifi, Jazzie B OBE and Ruby Savage. These international legends are joined by a peerless local lineup including Atarangi, BBYFACEKILLA, Flo Wilson, Keepsakes, Luna and Psychic Glands.
Tickets to Beacon Festival 2023 are on sale now! Check out the full day-by-day split lineup below and get your tickets sorted.
Beacon Festival 2023
Sat 18 Mar - Sun 19 Mar 2023
Queen's Wharf, Auckland
SATURDAY
starring in alphabetical order...
AJ HONEYSUCKLE (NZ)
AW B (NZ)
BENNY SALVADOR (NZ)
BORROWED CS LIVE (NZ)
CLAIRE MORGAN (AU)
DJ ASSAULT (US)
DJ EZ (UK)
DJ TUAFALE (NZ)
EBB (NZ)
ECLAIR FIFI (UK)
GALOLEAFI (NZ)
HURRICANE EMILY (NZ)
KEEPSAKES (NZ)
LIL MOFO (JP)
LUNA (NZ)
MICHAEL LOGIE LIVE (NZ)
RUBY SAVAGE (UK)
SCARLETT (NZ)
SEQUENTIA (NZ)
SHY ONE (UK)
SOICHI TERADA LIVE (JP)
SPACE GHOST (US)
SUNDAY
starring in alphabetical order...
ATARANGI (NZ)
AWA (NZ)
BBYFACEKILLA (NZ)
BEN UFO (UK)
CALL SUPER (UK)
CARLOTTA (NZ)
EDDIE CHACON & JOHN CARROLL KIRBY LIVE (US)
EDEN BURNS (NZ)
FLO WILSON LIVE (NZ)
HELENA HAUFF (DE)
JAZZIE B (UK)
KETTAMA (IE)
KIM ANN FOXMAN (US)
MOKTAR (AU)
MOOPIE (AU)
PSYCHIC GLANDS (NZ)
TIM REAPER (UK)
HERE'S EVERYTHING YOU NEED TO KNOW ABOUT BEACON FESTIVAL 2023
When do tickets go on sale?
Tickets are on sale now!
When and where will Beacon Festival 2023 take place?
Beacon Festival will take place from Sat 18 Mar - Sun 19 Mar 2023 at Queen's Wharf, Auckland.
FOR MORE BREAKING NEWS CLICK HERE